We are feeling so blessed to still have an abundance of produce in our garden at the beginning of January.
We currently have available –
Lolla Rossa lettuce (heirloom)
$4 gallon bag (approx 8oz)
Little Gem Lettuce (mini romaine type- heirloom)
$2 quart bag (approx 3.5oz)
Mixed lettuce (heirloom)
$4 gallon bag (approx 8oz)
New Zealand Spinach (heirloom)
$2 quart bag (approx 3.5oz)
Greens (heirloom) these will be a mix of turnip and mustard **limited qty**
$3 gallon bag (approx 8oz)
Turnips (heirloom)
50cents/ lb (please ask if you want smaller or larger ones specifically)
Cabbage (heirloom)
75cents/ lb
Broccoli (heirloom) **limited qty**
$2/ lb
Coming soon Miginotte Bronze lettuce (heirloom) and beets (heirloom)…
We planted 3 lettuce & spinach beds this past fall. The first one is basically played out, we are actively picking from the second and there is plenty, and the third bed is just coming on nicely. I am so thrilled with the timing on all of these. It has worked well for salad greens through out the winter.
We also staggered our cabbage and greens so we should have those for awhile.
The broccoli is in limited supply. This was our first time growing it and it did well enough we will repeat it in larger quantities next year. We grew both Waltham (picking now) and Purple Sprouting Broccoli. The Waltham has done well. The purple is not producing…. yet. I am holding out hope as it seems to be a slower growing version and might still head in early spring.
We have been very very pleased with all 3 of our current lettuces. They are reasonably cold and heat tolerant with a little help and have such mild fresh flavors. Little Gem, Lolla Rossa, and Miginotte Bronze will remain on our grow yearly lists.
We tried some Bloomsdale Longstanding Spinach this year, but came back to my long time favorite New Zealand. The NZ just grows better and tastes better so how can I argue with success.
The cabbage is doing very nicely as you can see.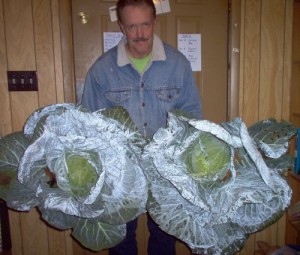 We have experimented this year with some pvc row covers Harold made and they are working very well at preventing frost damage from sensitive plants. After some discussion we chose to drape the plastic over them vs attaching it. Harold gives me a hard time about wanting to make everything *multi-purpose*, but there is something to be said for that. By draping the plastic we'll be able to substitute shade cloth over the row covers next summer and hopefully keep some lettuce and spinach going even through the heat of summer. We'll let you know if it works.
While we continue our winter garden we are also planning the spring garden. Planting begins this month… yes in January. Between Jan 15th and Feb 15th we are hoping to plant AT LEAST 13 beds.
We are planting – English or Garden peas and carrots, as well as more greens, cabbage, turnips, beets, lettuce, and spinach.
Let us know if you don't see your favorite veggie represented.