Whassup VS Hiy'all
My wife and I were both born in California and spent our teenage years in Tucson, AZ. Neither of us really enjoyed the town but it's what we knew. We had talked about moving to Texas or Oregon several times but had never made up our mind as to where. We both graduated high school in Tucson, attended college in Tucson, and started our professional careers in Tucson.  So when our daughter CaeLynn was born  in late April we resigned ourselves to the fact that we would never be able to escape. It's what we knew.
Then I lost my job. I had been working as a collections agent for a large corporation but after the birth of our baby I missed too much time trying to juggle a newborn, a post-partum wife, and a house and car that was falling apart. As is often the case with large companies my family's struggles made no difference. It was all about the bottom line.
After realizing that we would face eviction my family stepped in and gave us a helping hand. The family farm was booming and there was not enough hands to keep up with the growth. So we were offered the opportunity to start a fresh new life in Texas while helping out with the day to day operations of the farm. We jumped at the chance to escape the black hole that is Tucson and quickly raised the money to get out of town.
We arrived at Texadus Family Farm on Friday, August 10th. I will never forget the smiling faces of my mother and the little kids who were excited that CaeLynn was coming to live with them…oh yeah, Bryan and Virginia too! After weeks of not knowing if we would be able to keep a roof over our heads in Arizona we had finally arrived at a safe haven and refuge where family counted above anything else! My wife and I breathed our first sigh of relief in months. We had fresh start!
Later that afternoon we climbed in the truck for our first adventure into Center, TX. Pulling into Bole's Feed Store we climbed out and followed my mother and brother Isaac in to witness our first feed transaction. That's when it happened!!! We came into the store and were introduced to Mr. Boles. A cheery  middle-aged man who welcomed us with a loud and hearty "Hi Y'all!"  However, to our city slicker ears we were not sure what we had just heard. For those of you not familiar with Deep East Texas there are certain phrases in the English language that have been shortened to make up for what I can only imagine is the lost time spent speaking clearly! It's an American tradition or as my brothers would say…"Is a Tex's thang 'n y'all would'n understan!"
My wife and I looked at each other and tried to comprehend what the man had spoken. We nodded and smiled and said "hello" but upon leaving the feed store my wife looked at me and said, "Is that really how people talk here?" I replied that I imagined so and she retorted, "Is our baby gonna grow up talking that way?" I laughed, my mother laughed, my brother laughed and we all went to lunch.
By Sunday, I was getting slightly confused. I had noticed that several of my brothers and sisters would not return my salutations. I would pass by my brother Caleb and call out "Whassup?!" but would receive no response just an awkward shrug. The same was happening with my sister Molly who I had helped raise as a baby and normally was my little buddy! It was not until Sunday afternoon when myself and a few of the older boys went out to work on the fall garden I was questioned as to what exactly I meant by "Whassup!" My brother Isaac first mentioned it to me, asking, "Are you asking us what is above us or do you mean what's wrong?" I nearly died with laughter. Growing up in SoCal and Arizona it had become a daily greeting not a literal question so I had never thought of the phrase not being translated into the general language of the piney hills country.
We have immersed ourselves into a whole new world and it's very exciting but also confusing. I have never tilled a garden until this week and my wife has never canned a fruit before but we both rose to the occasion and learned something in the process. But's that's what this farm is built on. Family banding together to learn how to make a better life for each other. And regardless of the funny ways we all talk differently that's exactly what is happening at Texadus Family Farm.
America has been blessed a thousand times over with a diverse geography and the diversity of the people who live and work from place to place is something worth celebrating. We may not work the same jobs or say things the same way but we are all striving toward the same goal. To make life better for ourselves and more importantly our children. The daring to be different is what characterizes life at Texadus Family Farm and it's what America is built on.
Written by Bryan Thomas Edwards Parker
Pictures added by Texadus Farm-Wife aka Lynn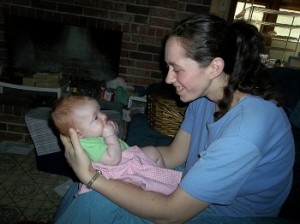 Aunt Becca with CaeLynn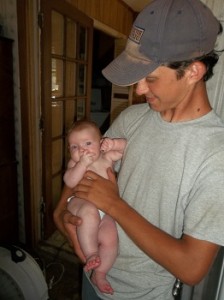 Uncle Aaron & CaeLynn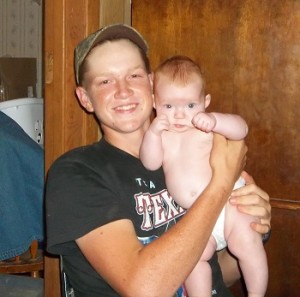 Uncle Isaac with CaeLynn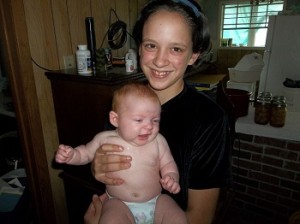 Aunt Molly & CaeLynn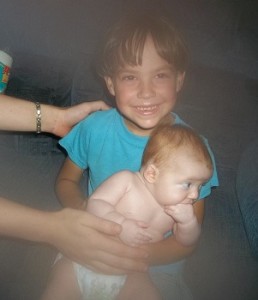 Uncle Micah & CaeLynn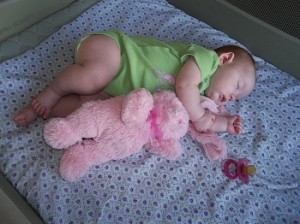 CaeLynn at her first market the day after she arrived… being cute and getting shown off wore her out.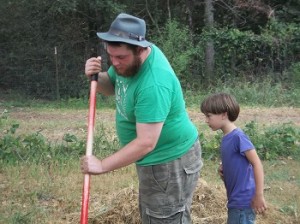 Bryan working in the garden… while Micah supervises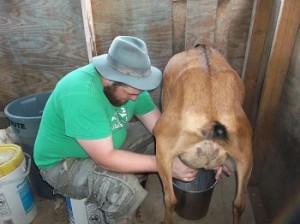 Bryan milking Trinity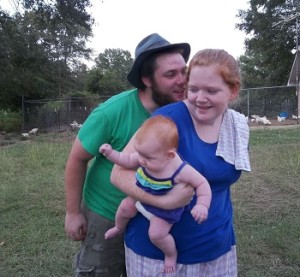 Bryan, Virginia, and CaeLynn… just outside the milk rm… a happy family.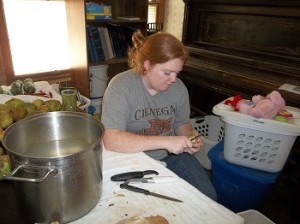 Virginia helping Lynn peel pears for canning…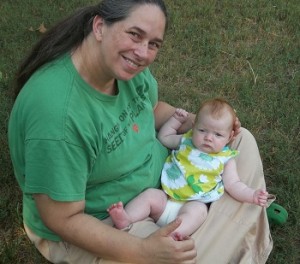 Grandma & CaeLynn in the garden…
**I've been asking & asking my family to help with this blog. Farmer Jones (Harold) has a few times. Thank you Bryan for responding so quickly to my request. **