I asked Harold aka Farmer Jones and our older 3 young adults at home, Isaac turning 17, Aaron turning 19, and Becca 22 to *guest blog*. Frankly, I need the help keeping up and I thought the various perspectives would be a nice change. Harold gave me his first post this morning… The Storm.
*****************
Back in January, Lynn referred to Feb-April as "The Storm".
She was referring to the spring planting that goes full tilt, with every available day dedicated to either tearing out a previous crop, prepping a bed for a new crop, or planting the seeds or starts for that new crop.  Each of those mentioned tasks takes more hours of human resources than one might imagine when they are done by hand (except the tilling). **Lynn's note… we've only had the tiller a few weeks after bartering a goat for it so much of the work in Jan & Feb was done COMPLETELY by hand.**
To date we have created 4 new beds in a new garden area and converted 8 existing beds in the main garden area.  Thanks to our AWESOME family labor team we've made good progress, but way behind where we'd like to be.  Recent severe rainstorms have slowed our plans some.
In the new area we've planted Jalapeno, Anaheim, and Serrano peppers in one bed, with the other 3 planted in Texas Pinkeye Purple Hull Peas with more beds of peas to come. **Lynn's note… he forgot to mention the beds they also put in in January of English and edible pod peas, plus carrots, onions, and garlic.**
The newly planted beds in the main garden are Green Beans, Tomatoes (Early Girl, Red Beefsteak Heirloom, Black Krim Heirloom, Porters Dark Cherry, Cherokee Purple Heirloom), and Bell Peppers (Red, Orange, and Yellow).   We pray the Good Lord adds his blessings to this work so we can bring the resulting harvest to our loyal and anxious customers.
Still to plant: more tomatoes (Super Sweet 100 cherry, Big Boy, Better Boy), more purple hull peas, New Zealand Spinach, Cucumbers, etc.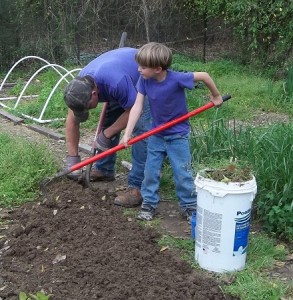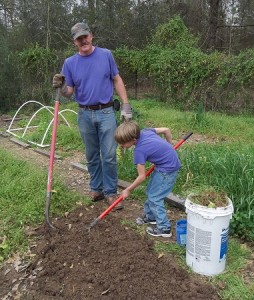 Farmer Jones & Noah 6 raking out a bed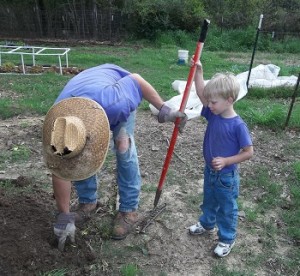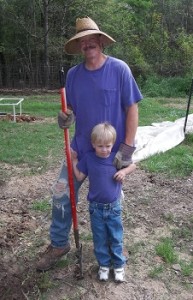 Farmer Jones and Samuel 4 prepping a green bean bed
Farmer Jones moving hay mulch to put in a bed
Aaron planting bell peppers
Isaac planting tomatoes and running soaker hose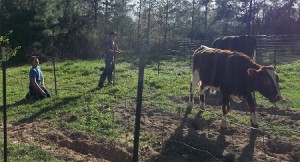 Gardening fun with livestock LOL When the boys were prepping the new garden location and fencing it from the dogs & chickens they broght in Dot the cow and Porter to eat down the grass before tilling & planting.