The calender may say winter, but at Texadus Family Farm it seems that spring has sprung.
Charlotte had a litter of 6 piglets on December 26th. A late Christmas gift to Aaron & Isaac her owners. The piglets are already trying to have the run of the farm and slipping out of momma's pen.
The next evening December 27th Muffin finally had her puppies. She presented us with a litter of 9 healthy, roly poly puppies. All the pups have badger markings and the spots that will fade as they get older. The spots concerned Rebecca until a friend assured her Great Pyr puppies are usually born spotted.
There are 7 females and 2 males in the litter. All are growing nicely. Becca has a favorite that is found in her lap more than in the closet. Samuel & Micah love the puppies, but Noah is a bit unsure and refuses to touch them. Micah accidentally stepped on a puppy tail and he cried way more than the puppy.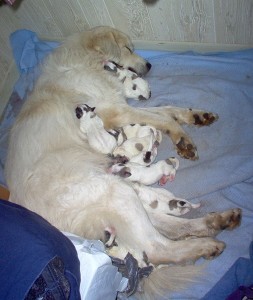 THEN, Wednesday, December 29th we got a real surprise. Aaron came in to tell me he thought he heard chicks in the back yard. I assured him that was not possible and he was likely only hearing the turkey that flew into the wrong yard and was ticked that she could not get out. Well, he went out to check and he was right and I was wrong. One of our Americauna hens in December mind you had hatched out 8 beautiful chicks! We caught them and momma hen and moved them to our chick room and they are doing great. The only problem is she is such a good forager that she keeps covering the feeder & waterer with all the shavings she is aggressively  scratching through.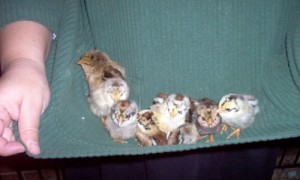 AND THEN, on Monday, January 3rd Callie (one of best momma rabbits) kindled 8 babies. Looks like 3 black, 2 gray, and 3 spotted. They are so tiny. Callie is a calico looking cross and the sire is a lovely brown rex. We raise a assortment of crosses – Californians, New Zealands, and a number of Rex crosses. We want the meat, but we also want the furs and the Rex crosses have lovely furs.
Just amazing to me that we had 31 babies born or hatched here over 8 days just as we went through New Years.
And now we are on goat watch. We think our first kidding of the year *might* be today. Aria (Rebecca's calico Mini La Mancha) appears to be in early labor, but until things progress a bit we can't be sure. I'll keep you informed. We are all impatiently waiting for goat kids.