This is the second version. I did not rush this one as much. I started it at about 7PM last night and got it out of the oven at 4:30PM today.  Changes are bolded.
*************
2 TSP ACTIVE DRY YEAST
3 CUPS WARM WATER
6 CUPS FLOUR
2 TSP SUGAR
3 TSP SALT
*************
In a glass measuring cup, dissolve sugar and yeast in water. Let sit 5-10min. In a large bowl, mix together the flour and salt. Pour the warm water mix into the flour and stir until blended. The dough will be shaggy and sticky. Cover bowl with plastic wrap.
Let the dough rest about 18hrs in a warm room, about 70 degrees.
The dough is ready when its surface is dotted with bubbles. Lightly flour a work surface and place dough on it. Sprinkle it with a little more flour and fold it over on itself two to three times.  Let it rest for about 15 minutes.
Using just enough flour to keep the dough from sticking to the work surface or to your fingers, gently shape it into a ball.  I use the "flop over" method again until it makes a round shape. Generously coat a clean NON TERRY dish-towel or pillowcase with flour. Sprinkle a bit more flour over dough ball, cover and let rest about 2hrs.
At least 20 minutes before the dough is ready, heat oven to 450 degrees.
Lightly grease a 5 to 8 quart heavy covered Dutch oven (cast iron) You want this to be a fairly good fit, as the steam is an important factor! ) Now put pot in oven to pre-heat.
When the dough is ready, carefully remove the pot from the oven and lift off the lid. Flop the dough gently into the hot pot. Give the pot a shake or two to help distribute the dough evenly, but don't worry if it's not perfect; it will straighten out as it bakes.
Cover and bake for 30 minutes.
Remove the lid and bake another 15-20min (This removes the excess moisture to finish the loaf) until the loaf is LIGHTLY browned.
Remove the bread from the Dutch oven and let it cool on a rack for at least 1 hour before slicing.
Confession… we waited MAYBE 15-20min!
Yield: One large round loaf
Use a cutting board and a good serrated knife to slice!
Lightly crisp crust the first day.
Loaf #2 is a bit darker than #1 was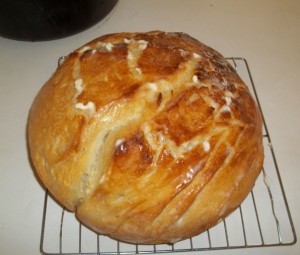 We rub our loaves lightly with butter when they come out of the oven.
Please note… I made it 30min this time before I caved and cut a slice… DELICIOUS!!!
**edited to add**
Texture and taste are very good in BOTH versions. Crust might be a *bit* tougher in version #2, but a bit early to tell. I already started loaf #3 and plan to bake it in the morning and start loaf #4 when I get up.