All our soap is made a small batch at a time by Rebecca & Lynn in wooden molds created by Harold.
All soaps (except laundry bars) are made with fresh GOATS MILK from our own herd of goats that we milk by hand every day.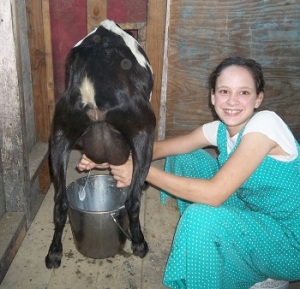 Soap is $6.00 bar (minimum weight is 4.75oz – I cut each bar by hand and weigh it out.
Special deals –
buy 4 get $2 off (4 for $22) or
buy 5 get 1 FREE (6 for $30) or
buy 15 get 5 FREE (20 for $90)
Shipping – I will gladly ship your soap for you Priority Mail (USPS)
$7 flat shipping for 1-4 bars in a small box (includes delivery confirmation and insurance)
$14 flat rate shipping for 5 or more bars (includes delivery confirmation and insurance) for a medium box
$19 flat rate shipping for mixed orders requiring a LARGE box (includes delivery confirmation and insurance) for a large box
[Soap scent list, descriptions, and pictures here.]
Save
Save
Save