Rebecca has been knitting up a storm! It is getting a bit challenging for her to keep up especially when I am always saying "Becca wouldn't —- be CUTE!"
All our knitting and crocheting is done by hand by our daughter Rebecca (red shirt) or our daughter in law *Sugar the Red* (blue shirt).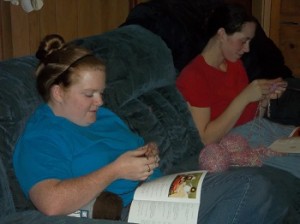 Since we know how children can be (after all we have 10 of them!) Rebecca knits the faces INTO all of her hats versus sewing them on. Here you can see her working with 4 skeins of yarn at once to knit together the monkey hat.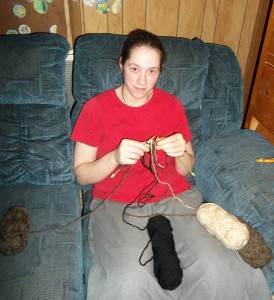 They gladly take special orders with a 50% deposit.
HAND KNIT HATS, ANIMALS, and ANIMAL HATS!!
Wise Old Owl – $12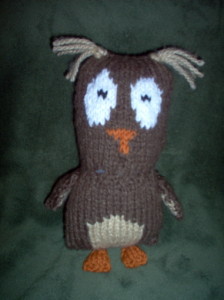 Owl Hat – Infant $12, small child $15, larger child & adult $20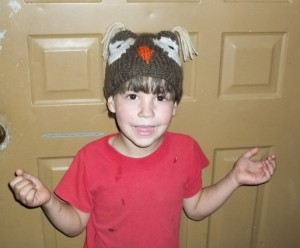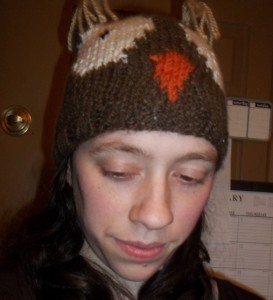 Penguin – $15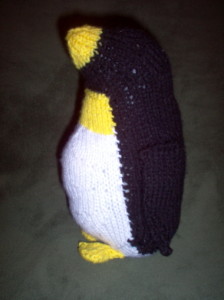 Penguin Hat – $15 infant, $18 small child, $22 large child or adult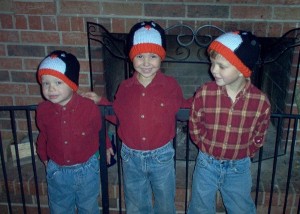 (Penguin & Penguin Hats can be done in yellow, purple, or orange)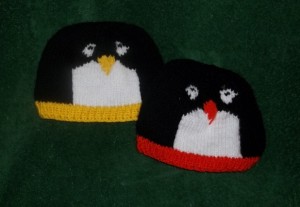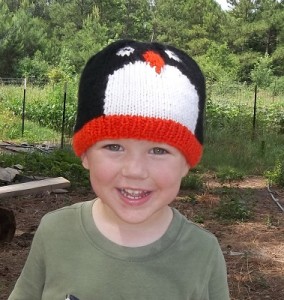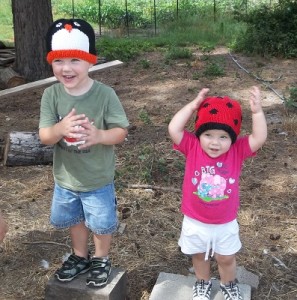 Lady Bug – $8
Lady Bug Hat (cotton) – $15 infant, $20 small child, $25 larger child or adult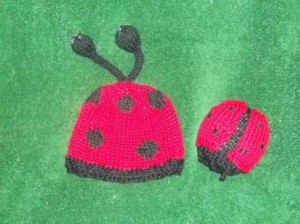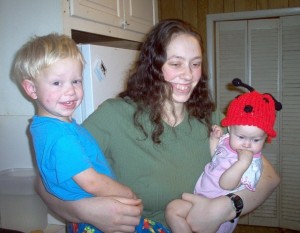 Elephant – $12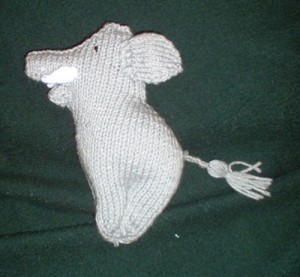 Lion – $12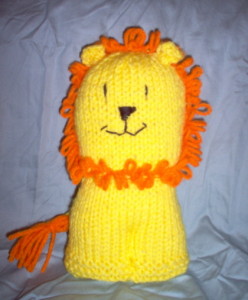 Giraffe – $12
Fish – $8
Monkey Hat – Infant $12, small child $15, larger child & adult $20
Monkey is a work in progress… Becca is not thrilled with the results yet, but he is kinda cute and is $10 (Here he is in the Jungle Basket)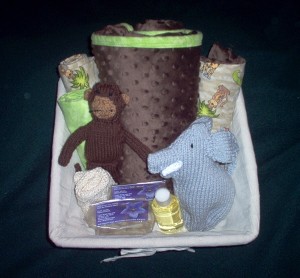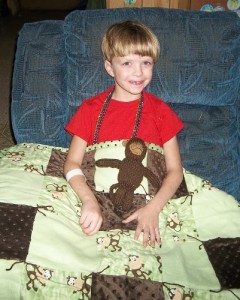 Simple Hat (cotton, Bamboo, or Bamboo/Wool) – $8 infant, $12 child, $16 adult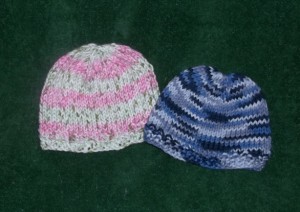 Camouflage hats made with bamboo yarn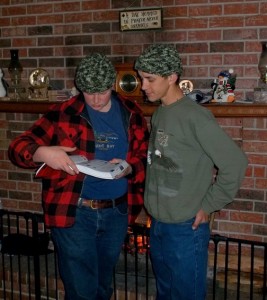 Puff Ball Hats (especially nice for newborns, but also great for babies & younger children alike) (cotton or Bamboo/Wool) – $10 infant, $15 child, $18 adult
Snug Hat with Ties – $12 infant, $15 child, $20 adult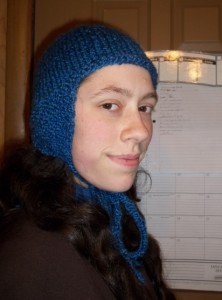 Mr. Gobbles finger Puppet – $5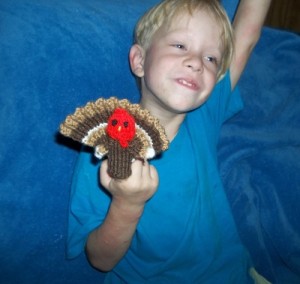 HAND KNIT FOOD
Our Candy Corn doesn't go on sale half-price, but it also doesn't go to your hips! – $2.50 sm, $3.50 med, $5.00 lg or a *family* for $9.00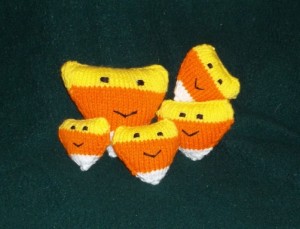 Perfect Pumpkins (These are great decorations or perfect *play food* for the little girl in your life. Or pair one with a bar of our Sweet Pumpkin Spice Goats Milk Soap for a unique hostess gift!) – $3.00 sm, $5.00 lg (brighter or more earthy colors available)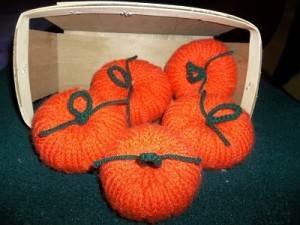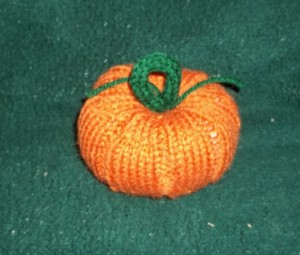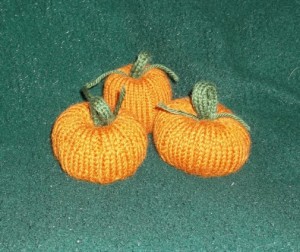 Don't forget our *Pumpkin Pie Special*
Knit pumpkin, a bar of Pumpkin, Vanilla, or Autumn Harvest Soap, and a small soap holder for $12. It makes a great hostess gift!
Adorable Acorns $1.00 each or 3 for $2.50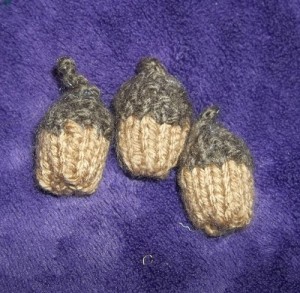 Scrumptious Chocolate Chip Cookie $3.50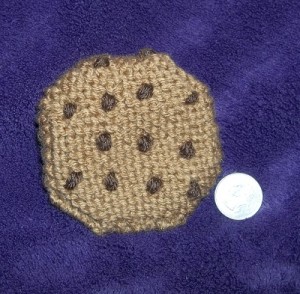 Sweet Cherries $2.50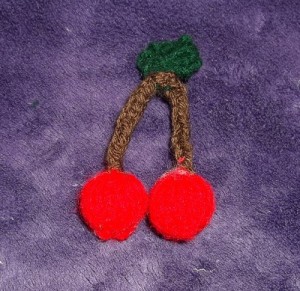 Banana $5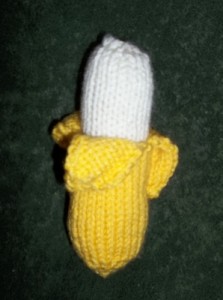 Colonel Corn $5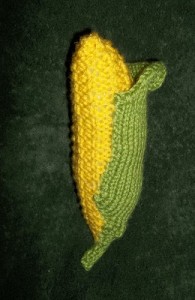 Peas in a Pod $3.50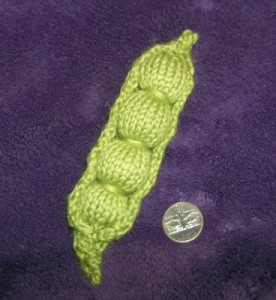 Mushroom $3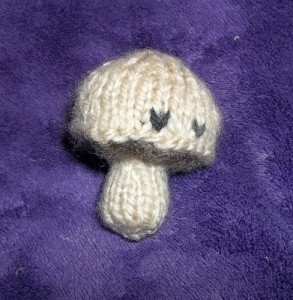 Pear $3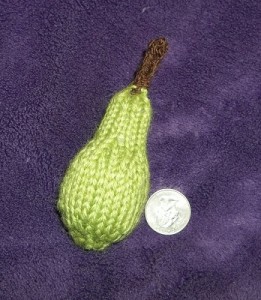 Sugar the Red's Crochet Creations
Sugar the Red crochets wonderfully sturdy UPcycled bags. She gladly accepts donations of clean and dry plastic bags on Saturday's at the Nacogdoches Farmers Market.
To create these bags she first cuts the bags into strips, knots them together, forms a ball, and THEN she crochets them.
UP- Cycled Bags $10