I've been a bad blogger again. Honestly, it is just very challenging to keep up with at times in addition to *real life*. For more update information on our farm please do *like* us on Face Book – Texadus Family Farm. You can also subscribe to or friend Lynn on Face Book – Texadus Farm for even more frequent updates. But again.. I'll also promise to *try* to do better. Unlike Yoda… I believe in *try*.
Our first two rounds of kiddings are complete . Seven does have kidded so far with 18 kids between them. No singles, 4 sets of twins, 2 sets of triplets, and 1 set of quads.
Scrabble aka Mighty Mutt (alpine x nubian x mini mancha) as I already shared went first on 2/7. She had a 5lb buckling Barnaby Jones and a 4lb doeling Perquacky.  Barnaby is sold and will be a herd sire. Perquacky we are still debating. Scrabble is currently our highest milker, but Paradise and Rosie are breathing down her neck. Scrabble is averaging 10.2lbs per day in March. Sire was Columbo.
Scrabble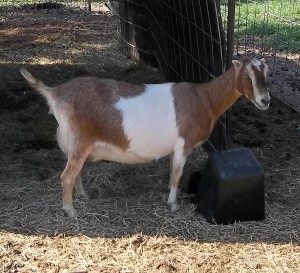 Perquacky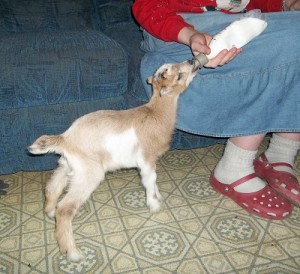 Almost Paradise (Babee x Anson) kidded next on 2/16 with triplets. An 8lb doeling Cajun Moon, 6lb buckling Apache Kid, and unfortunately a small that was still born (our only loss this year). Apache Kid is sold and will be a herd sire. We definitely are retaining Cajun Moon. Almost Paradise was our top milker last year and she is doing great this year. She passed 10lbs/day yesterday and is averaging 9.7lbs/day. Sire was Cherokee Bill.
Almost Paradise (2012, then 2011)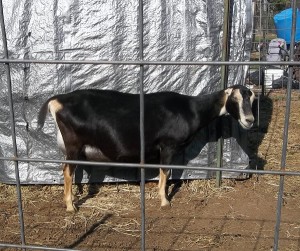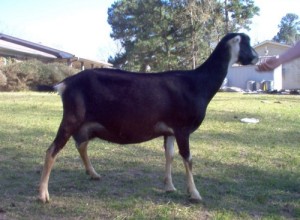 Cajun Moon
Trinity our purebred La Mancha kidded twin DOELINGS on 2/18. Medina and Banita were both 7lbs. We plan to keep 1 girl and offer the other for sale. Trinity is averaging 8.5lbs of milk per day. She is not one of our top top girls, but she is STEADY… and in 2010-2011 she milked through. Sire was Cherokee Bill.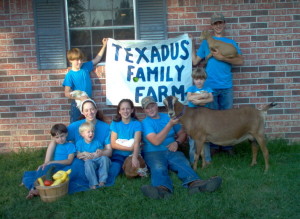 Banita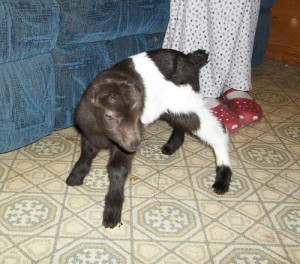 Medina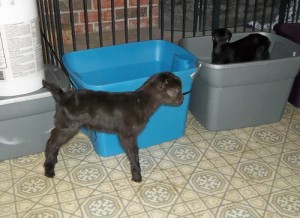 On 2/22 Martha (1st generation Mini Mancha) presented us with QUADS. Louisa was first at 4lbs, followed by Arkansas Tom at 8lbs!, next was Rachel at 5.5lbs, and last was Black Jack at 6lbs. That was 23.5lbs of babies! Just amazing! Louisa was sold a bit over a week ago and today Tom and Jack went to their new home. We will likely retain Rachel, but are still pondering. Martha is averaging 8lbs a day and is coming up. She is one of our solid milkers… high second tier to low first tier. Sire was Cherokee Bill.
Martha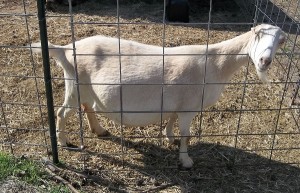 Martha in early labor with Aaron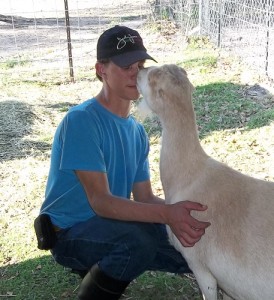 Rachel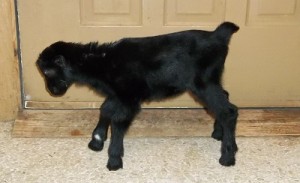 Little Sonata my baby (Aria x Thunder – a 3rd generation Mini Mancha) gave us triplets again on 2/25. I just love this little girl. Jitter Bug (doeling) was first and literally flew out at Isaac. She was 5lbs. Riker (buckling) was second and another quickie catch or you'll miss him. He was 6lbs. Then there was Hokey Pokey. She got her name from trying to come out all twisted and every time Isaac would get her all lined up… she pull that leg in again or twist her neck. She was finally born and weighed in at 6.5lbs. We will be keeping one girl and offering one for sale. Jitter Bug is living up to her name and is a busy always moving girl. Riker went to his new home today. Sonata is milking 6.5lbs of milk a day and rising. Sire was Columbo.
Sonata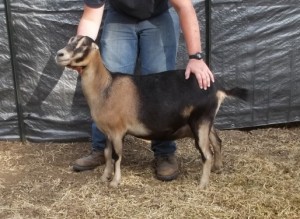 Jitter Bug & Hokey Pokey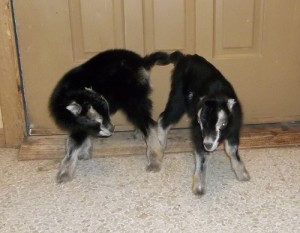 Next day, 2/26 Cracklin Rosie our first Cherokee Bill daughter kidded (Vickie Roe x Cherokee Bill). She went about 1hr after our farm visitors left. We had been watching her off & on when we heard a bellow and Isaac took off running. She gets the prize so far this year for biggest kid. Stud was 10lbs! his sire is Texas Hold Em, so Stud just fit! Then she gave us a beautiful 8.5lb doeling, Run Around Sue. Cracklin Rosie has already hit 3rd place in milk! She is averaging 9lbs/day and the last 3 days have all be 9.5 and above. Rosie is a second freshner this year. The sire is Texas Hold Em'.
Micah moving Cracklin Rosie to the maternity pen.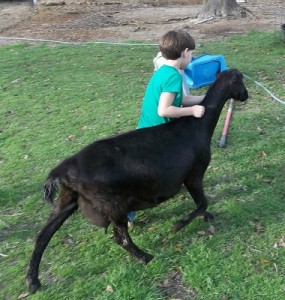 Run Around Sue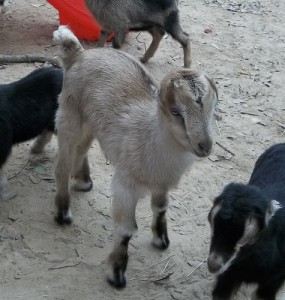 Nutmeg (Cinnamon x Anson) finally kidded on 3/3 just as we left market. Thankfully she needed no help as all 3 *goat midwives* were at market. She gave us twin DOELINGS! The first doelings we have gotten from her. Nutmeg's dam before we sold her was our TOP milker, but her udder left a lot to be desired. I was just down at the milker yard admiring Nutmeg's udder. I love seeing our herd improve! Sesame was 8lbs and Sage was 9lbs. We'll be retaining Sage and likely selling Sesame. Sire was Cherokee Bill.
Nutmeg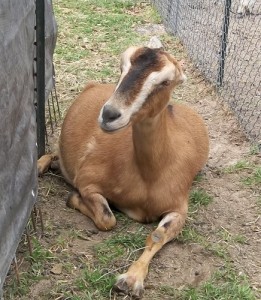 Sesame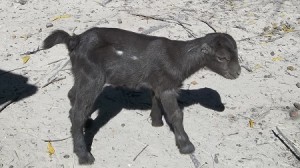 Sage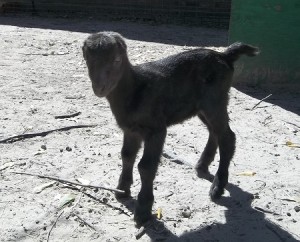 Now we wait on group #3. Seven goats, six of whom are FIRST freshners.
Bed of Roses (Ruby 3rd gen MM x Jarvis alpine) bred to Columbo. Roses is a second freshner… she kidded last May.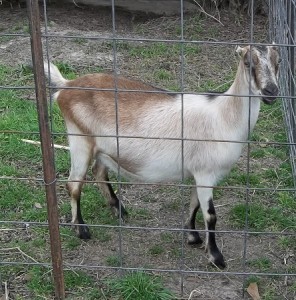 Austin (Almost Paradise x Cherokee Bill) bred to Columbo.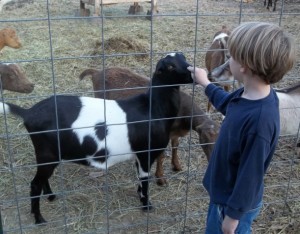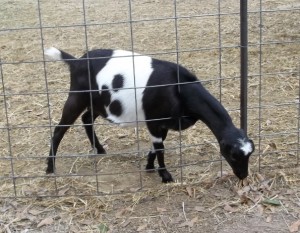 Tenaha (Trinity x Cherokee Bill) bred to Columbo.
Anaheim (Serrano x Cherokee Bill) bred to Columbo.
Dolley (Martha x Cherokee Bill) bred to Columbo.
Myrrh (Cinnamon x Cherokee Bill) bred to Columbo.
Adored (Babee x Cherokee Bill) bred to Columbo.
Nutmeg on the left looking uncomfortable and Adored on the right.
Then later Group #4 is due March 24 – April 29
Harmony (Sonata x Jarvis) bred to Little Foot.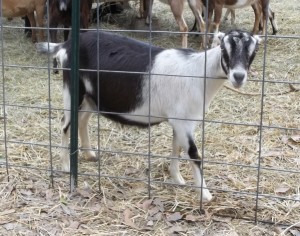 Moon River (Sweetheart x River) bred to Columbo.
Sunshine (Bed of Roses x Thunder) bred to Columbo.
Elizabeth (Martha x  Cherokee Bill) bred to Columbo.