Cinnamon *Sidecar* pictured below kidded on Friday. She presented us with two lovely doelings weighing 7.5# each. Cinnamon is a LaMancha/Nubian cross and my top milker last year. She and Babee run neck and neck each year.
Proudly introducing Coriander and Rosemary. Coriander is a lovely brown with facial stripes, frosted gopher ears and muzzle. Rosemary is a flashy black with white spots, frosted ears, and a white *dipped* tail.
We'll be retaining one and offering the other up for sale.
The sire is Cherokee Bill who after 2 mostly buck years is now redeeming himself with gorgeous doelings!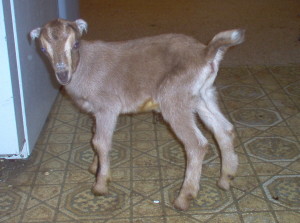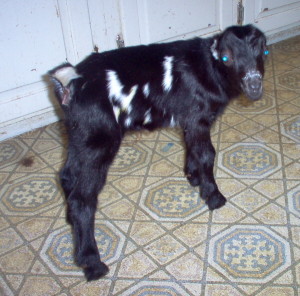 Both girls are doing great!
So now we continue to wait on Rumba (MM), Nutmeg (LM), Serrano (LM), and Honey (LM).  Honey will be available for sale after she kids. I kept 1 of her sisters from last year, Almost Paradise, she gave me healthy twins this year as a FF and is already milking in the top 5-6 of the herd. Honey and Almost Paradise are out of Babee/Anson from 09.
Impatiently wondering… who will go next.