And the wait is on.  No, unfortunately not the goats yet, though we did a labor watch on Nutmeg last Sunday. This time it is what species will birth first… the dog or the pig. A part of me feels like there should be a betting pool going on this. But alas I'll not set that up this time.
Muffin our Great Pyranees *farm* dog seems close to having her first litter of puppies. I've never done puppies before and am feeling a bit intimidated. The children are very excited. We have 3 Great Pyranees on our farm. Two live with the goats, one by choice and one by our intent, but Muffin is a digger and much prefers our company to that of the goats. So she is our general all around farm dog. You can tell these are ferocious dogs by their names… Muffin, Trixie, and Duke… and yes they live up to their names. Muffin's way of greeting a stranger is to run up and put her paws on their shoulders then roll over for a belly rub. I will say despite the paws on the shoulders (and yes we are working on that) Muffin is my favorite. She is a real love with BIG soulful brown eyes. She is also the self-appointed protector to Samuel our 2yr old. This is one of my favorite pictures. It was taken 2 years ago when Samuel was 7 months old. I can hardly wait to see Muffins puppies. I think she'll be a good *momma*.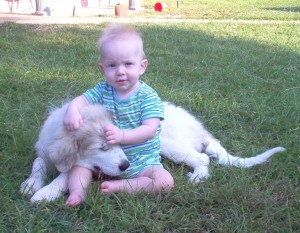 At the other end of the farm we have Charlotte the pig who is looking very heavy with piglets. This will be Charlotte's second litter. Her first was born last December during a snow storm and only 2 survived. I have much higher hopes (and more experience) this year. My only concern is she'll wait until Saturday night or Sunday morning when our low is supposed to be 23!
After Muffin and Charlotte we have a short break then hopefully have 2 rabbits due around New Years and after that… here come the goats!