Texadus Tooth Paste is HERE!!! 4 flavors, 2 sizes #boysoftexadus approved.
Fluoride and Glyercin FREE! All natural ingredients.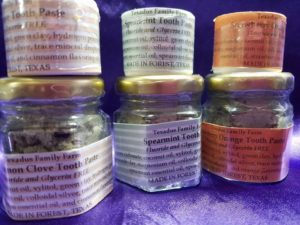 Flavors – Spearmint, Cinnamon Clove, Orange & Anise, and Strawberry Orange
.4 oz $2 (BPA free plastic)
1.6 oz $7 (glass)
2.6 oz $11 (BPA free plastic)
Texadus Tooth Paste Ingredients –
Calcium Carbonate – mineralizes and helps remove stains and debris
Coconut Oil – antibacterial, detoxifying, helps reduce plaque, reduces decay-causing Streptococcus mutans
Xylitol – note I only use birch , not corn derived xylitol Besides being a natural sweetener, xylitol has also been shown to reduce decay-causing Streptococcus mutans
Green Clay and Bentonite Clay – detoxifying, antibacterial, alkalizing detoxifying, binds and draws out heavy metals and toxins, it contains calcium, magnesium, magnesium, potassium, dolomite, silicium, manganese, phosporous, copper, and selenium
Hydrogen Peroxide – helps whiten teeth and treats gingivitis and periodontitis
Magnesium Oil – reduces tartar and plaque, magnesium is needed for stronger teeth,
Colloidal Silver – helps reduce plaque, fights infection, reduces decay-causing Streptococcus mutans
Myrrh – antibacterial, anti-inflammatory, helpful for gingivitis and mouth ulcers
Trace Minerals – the enamel on our teeth is 96% minerals.. our diets and lifestyles pull minerals from our bodies and teeth… our teeth need minerals
Essential Oils (Spearmint, Anise, or Clove) – antibacterial and antiseptic, freshens breath, and clove is especially useful for toothaches, anise is also anti-microbial and reduces swelling
---
Deodorants!! – aluminum, petroleum, and paraben FREE!!!!

$7.00 Large 2.5oz
$4.00 Travel 1oz
Deodorant ingredients coconut oil, shea butter, arrowroot powder, bees wax, zinc oxide, probiotics, and essential oil (or fragrance oil)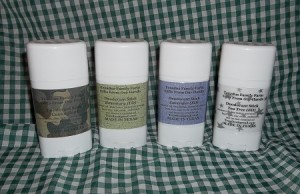 Available scents –
UNscented
Essential Oils
Rosemary
Lavender
Tea Tree Oil
Lavender Orange
Spearmint Eucalyptus
Fragrance Oils
Black Raspberry Vanilla
Love Me Tenderly
Orchid Rain
Orchid Rain
Desert Oasis
Still a Guy
Camouflage
---
Lotion Bars
$5.00 clamshell

 What is a lotion bar? It is a wonderful treat for your skin! Lotion bars are firm at room temperature, but soften with your body heat. Please keep away from sunlight, hot cars, or heat sources.
These are a leave on lotion not a soap.
Our lotion bars are made with shea butter, cocoa butter, avocado oil, sunflower oil, coconut oil, and bees wax.
I chose to make lotion bars instead of goats milk lotion at this time because no preservatives are needed in these lotion bars.
Yes, we make the lotion bars ourselves in our home.
All our lotion bars are UN-colored.
Available scents –
UNSCENTED
Essential Oils
Spearmint Eucalyptus
Protector
Orange
Lavender
Lavender Lullaby
Lavender Orange
Fragrance Oils
Very Vanilla
Chai Tea and Ginger
Love Me Tenderly
Orchid Rain
Sun Kissed Raspberry
Black Raspberry Vanilla
---
Flavored Lip Balms – $4.00 tube
We blended coconut oil, bees wax, shea butter, vitamin E oil, and flavoring oil
Available flavors are Buttered Rum, Spearmint, Galveston (tropical fruit), Snickerdoodle (cinnamon and vanilla), Pina Colada, Flip Flops, Unicorn, or UNflavored.
Massage Oil – Made with sunflower, coconut, and avocado oil

$6.00/4oz bottle
Available Essential Oil Scents
Song of Solomon (ylang ylang, orange, cinnamon, and clove)
Lavender Lullaby (lavender and eucalyptus)
Protector – Texadus Version of *Thieves*
Massage Tarts – Use in your warmer… the soy wax has a very low melting point so it doesn't burn… just moist heat…. blended with our luxurious butters and oils.

$5.00
Song of Solomon Massage Tarts… awaken the romance. The texture is different from the Whipped Body Butter. Use these for a sensual massage for your partner or play a bit with the warmth of the butters and oils… that can stimulate the senses in new and exciting ways.

Song of Solomon Massage Tart ingredients – Soy wax, cocoa butter, shea butter, sunflower oil, and essential oils of ylang ylang, orange, cinnamon and clove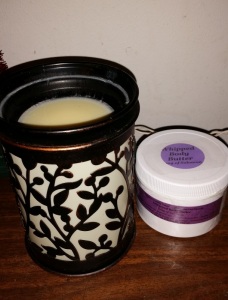 Save
Save
Save
Save
Save
Save
Save
Save
Save
Save