This recipe is from my friend LeeAnne, owner and operator of Swede Farm Dairy. Her blog Dairy Berries can be found here –  http://dairyberries.blogspot.com/
LeeAnne's 60 Minute Rolls
2 pkts yeast (4 and 1/2 tsp)
1/2 Cup very warm water
1 Tsp sugar
1 Cup milk, scalded
1/4 Cup butter/margarine
1 Tsp salt
1/3 Cup sugar
1 egg, lightly beaten
4 -5 cups flour
Mix yeast, water, 1 tsp sugar and water. Set aside for 10 minutes or until very active and bubbly.
Mix scalded milk, butter, salt, sugar, egg. When lukewarm add yeast mixture. Blend. Add flour, one cup at a time until dough pulls pretty cleanly away from side of bowl. Knead for five minutes, adding flour as necessary. Dough should not be sticky, but remember that soft dough=soft rolls. Do not overwork. Oil bowl. Place dough back into bowl, turning to cover. Set to rise in warm place for 10-15 minutes or until doubled.
Punch down and shape. These can be shaped any way you like. I usually make them round to save time but have done crescents. Check a good basic cookbook for tips on shaping rolls. Set aside to rise 10-15 minutes.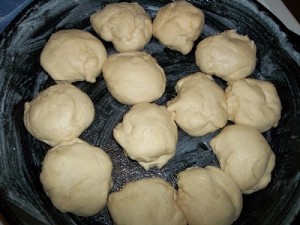 (*nice sized* rolls ready for oven)
Bake at 350 degrees until golden brown. (About 15 minutes)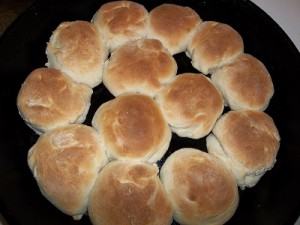 (ready to serve)
Makes around 12 LARGE rolls or 18 nice sized rolls
Tips…I do not presoften my butter, I just cut it into 1 tsp size chunks in the bowl with the egg, sugar, etc. I microwave my milk for a minute or two until quite hot. I then pour it over the butter, eggs, etc while stirring. This melts/softens the butter and cools the milk. I also do not do the egg wash that makes it glossy as I usually forgot and then realised my family didnt care one whit, LOL!
These are great served with –
Loaded Baked Potato Soup – http://texadus.com/blog/?p=683
Texas Two-Step Rainy Day Soup – http://texadus.com/blog/?p=637