FREE SHIPPING ON ALL ORDERS $29 or more!!!!
For several years now I have made my own laundry soap. It was more economical and worked better. I also liked knowing the ingredients. With 9 people in our household we do a LOT of laundry. We are an all cloth household so we do a LOT of laundry. I have 4 boys at home still so we do a LOT of FILTHY laundry! Add in we use all cloth on our goats AND a baby in cloth diapers! Yes, we use our laundry soap on our cloth diapers!
I started out buying bars of a popular bar soap recommended for this purpose. I was not thrilled though with the smell of it. Also I had a bed-wetter and if I needed to dry the bedding in the drier vs hanging it on the line… it smelled still. Overall though the homemade soap worked better than anything from the store, was cheaper, and did not bother my chemically sensitive family members.
THEN, I started making my own goats milk soap which we loved. One day I wondered couldn't I MAKE a laundry bar to use instead of buying one. I researched recipes and experimented and came up with one that worked very well. After using it about a month I noticed if I had to dry bedding in the drier… it did NOT smell! Eureka!
We have been pleased to offer our laundry soap bars to our customers and the reviews have been great. After some requests we also started offering a laundry soap powder for our customers convenience.
There are 2 ways to use our laundry soap, as a dry powder or as a gel. 1 bar blended with borax and washing soda will make a 5 gallon bucket of laundry gel or enough powder to wash about 40 loads.
We do NOT use goats milk in our laundry soap bars. Goats milk is moisturizing to the skin, this is not something your laundry needs. We also use more basic fats & oils to make the laundry soap. Again your laundry does not need the moisturizing and other benefits of oils such as safflower, olive, and avocado. Our laundry soap is made from lard & coconut oil. We also add either essential oils or fragrance oils to our bars. After several requests most of our laundry bars are lightly colored.
Our laundry soap powder is our laundry soap bars grated and mixed with 1 cup borax and 1 cup washing soda per bar. After mixing it goes through a food processor to grind it very fine. This step is not needed if you are making the gel.
**BIG UPDATE**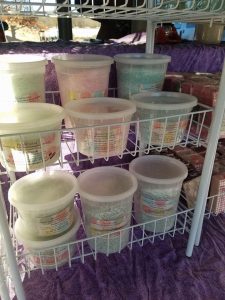 Our laundry soap also works for DISHES. You can use it in the dishwasher at the rate of 1/2T to 1T per load. For better results add a little white vinegar to the rinse compartment. It also works for hand washing dishes… about 1/2-1T per sink or basin.
Also works great for mopping your floors… use about 1/2T to a bucket of hot water.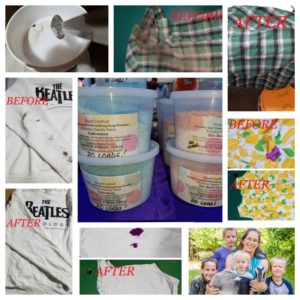 $4.00 per 4.5 oz bar
$8.00 per 20 oz container of laundry powder. (Recommend 1-2T per load depending on size and how dirty, yield should be about 40 loads)
$5.00 per 10 oz container of laundry powder. (Recommend 1-2T per load depending on size and how dirty, yield should be about 20 loads)
Please recycle your containers WITH US! We offer 50 cents back on your returned containers… must be intact with lid!
All our soap is made a small batch at a time by Rebecca & I.

It is cut into chunks for ease of use… except a few bars from each batch. And then set into a box or basket or the cure racks.
When ready we weight out enough for 2 batches at a time… what our food processor can handle.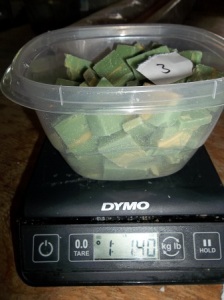 Caleb (12) has taken over most of this… I cut the bars, but them he cuts the chunks and when it is time… he shreds them in our hand crank shredder, weighs them, and then blends it up in the food processor…. fondly called Shelly. As you can see in the background the powder goes into buckets… and we container it for you as needed. Often he'll shred up a full batch, but only blend part of it at a time… those shreds also go in buckets.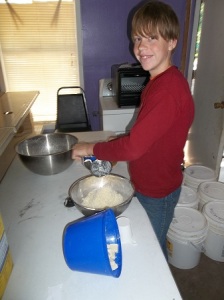 All our soap is MADE IN TEXAS!
Available Scents – We can turn ANY of our scents into a laundry bar by custom order!! Extra charges and minimum purchase required!

100% PURE ESSENTIAL OIL SOAPS – listing these first because they remain the back bone of our soap line (we do all blending ourselves!)
Protector Oil (blend of clove, lemon, cinnamon cassia, eucalyptus, and rosemary) uncolored
Lavender Orange
Eucalyptus

Tea Tree Oil Plus (blend of tea tree oil, peppermint, and lavender)
CLEAN & CLEAR (UNscented and UNcolored)

FRAGRANCE OIL
Galveston (will make you think of summer, a wonderful fruity blend of pineapple, mango, peach, apricot, and citrus)
Texas Rio Red Citrus (the sharp, clean, and clear tang of grapefruit & lime… with a twist)
Baby Fresh (baby powder fresh)
Honeysuckle Jasmine
**********************************
HOW TO MAKE A 5 GAL BUCKET OF LAUNDRY GEL –
Combine these ingredients in a pan and heat slowly until shredded soap is dissolved, or the consistency is like melted honey
1 bar laundry soap, grated or shredded (not sliced or chunked, or it won't dissolve right! I use a hand crank cheese grater)
1 cup Washing Soda (NOT Baking Soda)
1 cup Borax
3 quarts Water
Get a nice big 5gal bucket with a lid and add in order –
2 quarts hot water
add hot soap mix and stir well
add hot water until bucket is mostly full (about 3-4" from top)
Let sit undisturbed for 24 hours to gel.
Use ½ – 1c per load depending on size of load and how dirty it is.
A 5 gal bucket should wash approximately 50 loads
It will gel up and sometimes as you use it there is separation. This is NOT a problem. As you get partway through it, it will remix and get more soupy. None of this affects performance.
Use it straight on stains too.
Save
Save
Save
Save