Kidding season started this year on February 1st. However, our first kids of the year were not born on our farm, but at our friends Swede Farm. They had needed extra milk over the winter and *borrowed* 6 of our girls. Mahogany kidded triplets there on Feb. 1st. Two days later Babee (one of our two best LM milkers) kidded triplets HERE… 2 does (Cherish You and We Danced) and 1 buck.  The next day Scrabble the *mutt* (alpine/nubian/minimancha) and Aria (MM) kidded. Scrabble presented us with twin doelings (Uno and Pinochle), while Aria gave Becca a buck and doeling (Minuet).
Noah holding Uno and Micah with Pinochle.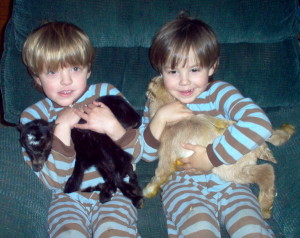 So far we have had 20 goats kid this year. The stats for those like me who LOVE such things are –
24 bucklings and 20 doelings
3 singles, 11 twins, 5 triplets, and our first set of quads
14 LaManchas and 30 MiniMancha kids
I have 5 more due *anytime* as in NOW and up to 3 due *later*.  Among others we are still waiting for *Cinnamon Sidecar* as we call her.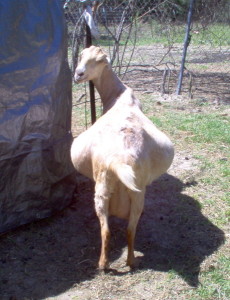 I am guessing this weekend, but I've been wrong before!