We use a lot of Vanilla at our home… and buying enough can be expensive. We often bought large bottles of Vanilla Extract from Mexico, but I was never completely confident of it… I am definitely one who prefers to make from scratch as much as possible what I am feeding my family.
So a few years ago I started making my own vanilla extract. It is very simple to do.
You can order Vanilla beans online. I usually buy from herbalcom.com, but I have friends who order from Amazon. Besides vanilla beans you need some form of alcohol, vodka is the one generally recommended. I prefer the depth of flavor though from using vodka and Captain Morgans Spiced Rum. A friend recently made some using bourbon… so I am thinking next time of trying a batch made with Jack Daniels.
Gather your supplies – besides vodka, rum, and vanilla beans, your need a cutting board, sharp knife, and a glass canning jar with lid.
Cut the vanilla beans in half then slit them almost all the way up the middle.
Place 6-8 halves in a glass canning jar.
Fill the jar 1/3 of the way with bourbon.
Fill the jar the rest of the way, leaving a couple inches head space, with vodka.
Put on the lid and give it a nice shake.
Date and label the jar and place in a cool dark spot.
Every couple days give the jar a nice shake.
The best things in life take time and your vanilla is no exception. It should be ready for use in 90 days. The longer it sits though the better it gets.
You can reuse the beans. For the second batch I usually combine the used beans from 2 jars and add the rum and vodka. This batch will take longer… allow 120 days.
Optionally you can add a bit of sugar to your vanilla… up to 1/4 cup can just enhance the flavor. I usually skip the sugar, but recommend brown for it's depth of flavor.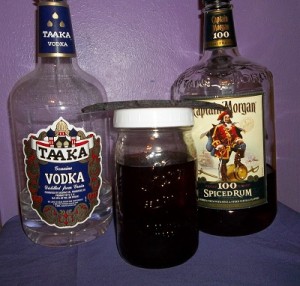 Vanilla bean is resting on the jar of vanilla.