**TEAS**

I have loved herbal teas since I was a teenager, but back then I bought the boxes of bagged teas. While this was very convenient, it was not cost effective with a growing family. I began buying my herbs and spices in bulk by the pound and blending my own mixes. In our home we make our own seasoning mixes, teas, and tinctures. For the last several years I had sold some of my *Cranky Lady Tea* in some baskets I made… especially Respite for Ladies Only. But as we drifted away from doing baskets I was no longer selling it.
In June of 2012 I gave up soda (again). I replaced it with my *Cranky Lady Tea*. As I talked about my journey on Face Book, I started getting requests for the tea. That seems to be how many things we offer for same get started… requests.
We now bring several herbal tea blends to market and also ship them around the country.
1oz bag – $2.50
4oz bag – $6.00
This is loose tea… let me know if you need a drawstring bag for steeping.
Cranky Lady – is a blend of Red Raspberry Leaf, Spearmint, Nettle, and Alfalfa (perfect for younger women and for pregnancy)(2 Tablespoons per mug or 1/2c per gallon)
Vibrant Woman – Spearmint, red raspberry leaf, red clover, nettle, alfalfa, maca, chaste berry, motherwort, wild yam, and rhodiola (for the NEXT stage of your life… peri-menopause and menopause) (2 Tablespoons per mug or 1/2c per gallon) NOT PREGNANCY SAFE

Quite Respite – Whole Chamomile Flowers and Catnip (1-2 Tablespoons per mug) NOT PREGNANCY SAFE
Texadus Fall Blend –  Dried orange and/or lime peel, dried apple and/or pear peel, chamomile flowers, catnip, lemon balm, cinnamon bark pieces, whole cloves, rough chopped ginger, and allspice (2 Tablespoons per mug)
Serenity – Chamomile flowers, lemon balm, oat straw, hibiscus, passion flower, catnip, hops, lavender, ginko biloba, rhodiola, and skullcap (1-2 Tablespoons per mug) NOT PREGNANCY SAFE
Floral Fantasy – Lemon balm, calendula, jasmine, hibiscus, rose hips, lavender (1/2 Tablespoon per mug or 1/4c per gallon) ASK FOR A CALENDULA FREE VERSION IF PREGNANT!!

Farmer Jones Summer Mint – is a blend of Peppermint and Nettle… it can also have Spearmint blended into it by request (2 Tablespoons per mug or 1/2c per gallon)
Lemongrass and Sage – contains just Lemongrass and Sage NOT PREGNANCY SAFE
Got Milk –
Lung Tea –
Most of our teas are excellent served either cold or hot. I drink Cranky Lady year round, but I admit I do love a nice hot cup of Texadus Fall Blend in the winter curled up in front of a fire.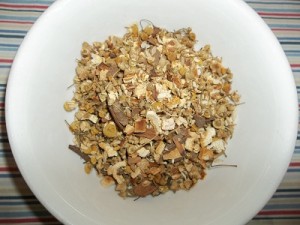 **MULLING SPICES!!**
Perfect for cider, wine, or a nice hot spiced punch for your holiday enjoyment…
Texadus Mulling Spices $4/bag (1/4-1/3cup per gallon… each bag makes up to 3 gallons)

(with or without cranberries)
Cinnamon pieces, dried oranges, cranberries, dried lime, whole cloves, ginger root, allspice, coriander, and ground nutmeg (1/4-1/3 cup per gallon)
**SPICES and SEASONINGS**
A confession, I cannot stand… and have never bought those envelopes of seasoning packets. Personal preference, but I'd read the ingredients, look at the cost per ounce and just shake my head and pass on by. I usually just keep the bulk spices on hand and add straight to whatever dish I am making, but we also do make  a few *Spice Blends* or *Seasoning Mixes*. Hands down Farmer Jones favorite blend and the family favorite is our Texadus Two-Step. It is a spicy Cajun style. Farmer Jones refuses to eat Roast Turkey or Baked Salmon without it! Next would be the *Ranch Style*. My family loves ranch dip or ranch dressing… as a mom I HATED the ingredients in the bottles and mixes. I found and tweaked a wonderful blend of herbs into a mix that tastes like ranch without all the unpronounceable ingredients!
PINT BAG $10.00
1/2 PINT JAR $6.00
1/2 PINT BAG $5.00
JELLY JAR (2OZ) $3.50
Onion Soup/Dip Mix
Texadus Two-Step
7 1/2 tablespoons paprika
6 tablespoons sea salt
6 tablespoons granulated garlic
3 tablespoon black pepper
3 tablespoon onion powder
3 tablespoon cayenne pepper
3 tablespoon dried oregano
3 tablespoon dried thyme
*Ranch Style* DIP or DRESSING MIX (Use at the rate of 1T per 8oz of buttermilk, yogurt, or sour cream) Even better toss it in the blender with an avocado for avocado ranch. 
1.5T dried parsley
1/2t dill seed
1t dehydrated onion
1/2 t dried chives
3t granulated garlic
2t sea salt
1/2t black pepper
South-West Seasoning (South West Texas)
6 Tablespoons chili powder
6 teaspoons ground cumin
6 Tablespoons paprika
3 teaspoon black pepper
3 Tablespoon ground coriander
3 teaspoon cayenne pepper
3 Tablespoon granulated garlic
3 teaspoon crushed red pepper
3 Tablespoon sea salt
3 Tablespoon dried oregano
 Chili Powder
* 4 T paprika
* 8 T ground cumin
* 4 T cayenne pepper
* 4 T ground oregano
* 8 T granulated garlic
Texas Range Seasoned Salt (low salt version)
6T black pepper (1T)
6t onion granules (1t)
3T granulated garlic (1/2T)
3t cumin (1/2t)
3T parsley (1/2T)
3t paprika (1/2t)
3T chili powder (1/2T)
1c sea salt (1/2T)
Save
Save