The only dad I have knew died just before I turned 16. He was my GREAT grandfather. I called him Pop and he & Mom raised me from a few months old until I was 13. He was the man I kept in mind when I met and married my husband. Especially his love of God, his love of gardening, and his work ethic… which included loving his rough, tough hands that showed he was NOT afraid of hard work.
My husband is the best father I could imagine for our children (and the best husband I could ask for). Everything he does he thinks first of the Lord and second of the children and I. The Lord has blessed him with 10 children on earth.
When he comes home from work the children RUN to see dad! With lots of loud should of DADDY!!!!!!!! He is incredibly patient with all his little helpers. God has blessed us with 8 boys… to be a role model for. The 4 youngest are 9, 7, 5, and 3 and he always welcomes their help with gardening and projects. Seven years ago after watching the struggles of our two oldest boys he made the decision to totally change our life. He went from working over 20years in manufacturing management to moving half way across the country, buying 11 acres in the country, and starting a business and homestead that would allow him to spend his time WITH our children. Our older boys at home are now 16 & turning 18. Each works with him in the business 2 days a week and the other 3 days they all work together on the homestead. He is able to bring them along side him and live out on a daily basis –
Deuteronomy 6:4-9 "Hear, O Israel: The LORD our God, the LORD is one! You shall love the LORD your God with all your heart, with all your soul, and with all your strength. "And these words which I command you today shall be in your heart. You shall teach them diligently to your children, and shall talk of them when you sit in your house, when you walk by the way, when you lie down, and when you rise up. You shall bind them as a sign on your hand, and they shall be as frontlets between your eyes. You shall write them on the doorposts of your house and on your gates.
Leading and supporting a large family I am sure can be a bit scary at times… a large burden for a man to carry… but he does so with wisdom and grace. When people question him he responds that he "prefers new baby smell to new car smell", that "lifestyles are expensive, not children", and that "The Lord says children are a blessing!!"
I am very, very blessed to have such a wonderful father to my children.
Happy Fathers Day Harold!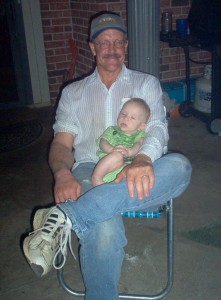 Harold with Samuel 2008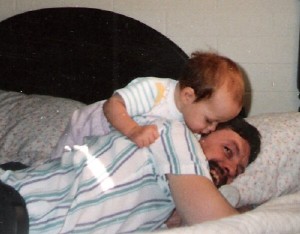 Harold & Becca… 1990.