We have a dear sweet friend and neighbor named Miss Connie. Miss Connie loves to bless people. We have been on the receiving end of many blessings through her. At times we have called her the *hay fairy* since she has snuck over here before and dropped off hay and disappeared without a word. Harold refers to her as *Farmer Teresa*. She has been quick to lend a hand whenever she sees a need.
Apparently a year ago Miss Connie and our 15yos Isaac cooked up a surprise. We have wanted to add a milk cow to our farm, but just have not been in a position to do so financially so far. Miss Connie decided to help. She raises Milking Shorthorns and had a Holstein x Milking Shorthorn heifer that she and Isaac decided needed to belong to me.
A couple weeks ago they spilled the news and Miss Connie told us to get a spot prepared for a milk cow.We set up a nice yard and shelter for her.
Dot joined our farm last Wednesday. She was a 3yo heifer, bred to a milking shorthorn bull, and *due anytime*.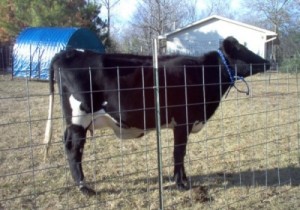 I will admit I was quite nervous about the impending calving since both *Dot* and I were inexperienced. Thankfully though there were no issues and Friday morning we got up to a sweet bull calf dry and wobbly in Dot's yard.
Dot and Porterhouse the calf are both doing well. We have left the calf on her to nurse and are still getting 1.5-2gal of milk from her each day. We are milking her 3 times a day.  Both she and we are getting the hang of it. It will be nice though when we get the cow milking parlor and stanchion built!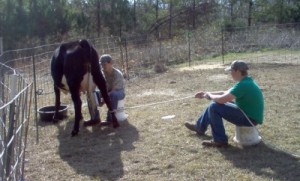 I look forward to trying my hand at cows milk cheese and butter soon.
Thank you again *Farmer Teresa*!! We love Dot!