Get on the list for FREE family friendly bottle baby bucklings!
We offer *most* of our bucklings FREE if you pick them up between 2-5 days old (after they've had their colostrum).
We'll also be offering some doelings for SALE.Price range is *usually* $80-120 depending on the dam and how she milks.

Comment and email us at Texadus@gmail.com to get on either list.
Soon… soon… soon…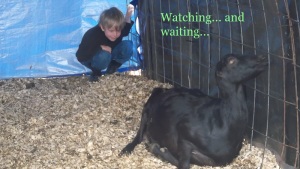 Breedings –
Second or Greater Freshners
Vickie-Rae (American LM) x Cherokee Bill (Pure Bred LM) – retaining ALL doelings!
Almost Paradise (LM Babee x Anson) x Cherokee Bill (Pure Bred LM) – retaining 1 doeling
Adored (LM Babee x Cherokee Bill) x Calvin (alpine) – retaining 1 doeling
Cajun Moon (LM Almost Paradise x Cherokee Bill) x Calvin (alpine) – retaining 1 doeling
Banita (Pure Bred LM Trinity x Cherokee Bill) x Calvin (alpine) – likely retaining 1 doeling
Rachel (1st Generation Mini LM Martha [1st Generation Mini LM] x Cherokee Bill [Pure Bred LM]) x Calvin (alpine) –
Licorice (LM x nubian x Mini LM Myrrh x Columbo) x Cherokee Bill (Pure Bred LM) –
Angelica (LM x nubian Cinnamon x ?) x Calvin (alpine) –
First Freshners
Carraway (LM x nubian Nutmeg x Cherokee Bill) x Calvin (alpine) – 
Shameless (LM x Mini LM Adored x Columbo) x Coumbo (1st generation Mini LM)
Joaquin (LM x Alpine Banita x Calvin) x Coumbo (1st generation Mini LM)
Yahtzee (mutt x Alpine Perquacky x Calvin) x Coumbo (1st generation Mini LM)
Calico Moon (LM Hard to Love x Apache Kid) x Coumbo (1st generation Mini LM)
Argentina (LM x alpine Caroline x Calvin) x Coumbo (1st generation Mini LM)
Dilly (LM x alpine Angelica x Calvin) x Coumbo (1st generation Mini LM)