We finally had our first goat kidding of the year. Aria (Becca's 2nd generation MM) kidded on Thursday.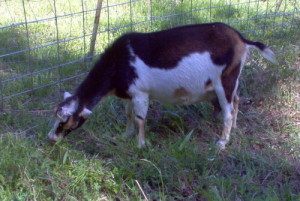 Aria is 6yo and this was her 5th kidding. Until now Aria has given us buck and doe twins EVERY year. But this year she was not only first, but also presented us with triplets! Contata (doe), Twister (buck), and Blizzard (buck). Contata is the darker goat with white on her head and Blizzard is the mostly white one. Contata has already jumped out of the tote at 24hrs old. We'll set up our kid area tomorrow and move them into the breakfast nook. For now their tote is by the fire place in the living rm.
My *kids* love the kids! Left to right this Micah with Twister, Samuel with Contata, and Noah with Blizzard. Samuel insists they are *doggies* though instead of goats.
Twister will go to his new home this Saturday. He will I know be royally spoiled by Miss Dot. He will eventually become her new herd sire.
Blizzard will go to my friend Miss Connie. She is raising out most of our males again on her good cows milk.
Contata will remain here and if all goes well next spring she'll kid for Becca.
I had guessed that Aria would go first, but I have no clue who will go next. Two of the girls we are waiting on are very very big and round… but no sign of impending labor. Obviously 2011 will not be like 2010. Last year we had our first 3 births with a 24hr period.  Becca's theory is it is TOO COLD and they are holding onto their babies for warmth… well at this point anything is possible.