What is Advent? I was asked that on Sunday on Face Book as I was talking about Advent starting. I love questions like that because they make me think. So often we believe things or do things without a good understanding of why.
This was my answer, which does need a little work I think, but wasn't too bad.
Advent is the time on the Christian calender prior to Christmas (encompasses the 4 Sundays before Christmas and the weeks of them) when we turn our hearts toward preparing to celebrate the remembrance of the birth of Jesus. In our home we do a Jesse Tree. I'll be blogging about it and sharing it on FB, but we read a portion of Scripture each night that point to the coming of Jesus and his lineage, we each color a picture ornament that goes with the reading, and tape it to our construction paper tree on the wall, sing together, and usually have a special goodie (cookie, piece of fudge, cocoa, etc).
This is the site I use to get the BONES of what our family does – https://www.rca.org/page.aspx?pid=4745
It says this about Advent –
Advent is a time of preparation, a time to remember all the ways God has come to us and will come, a time to prepare ourselves–as well as our houses–for the great festival, Christmas. It's a time of waiting and expectancy, a time of contemplation. Purple or (royal) blue (the liturgical color choices for Advent) suggests a mood of repentance and preparation for the King.
So the next question… I've been a Christian for years and I've never heard of Advent before. How come?
Well Advent (and most of the church calender) has traditionally only been observed by the more *liturgical* denominations – Presbyterian, Methodist, Anglican, Roman Catholic, etc.
However over the last 10-12 years I have seen that change (among families vs churches). More families are looking to put more meaning back into celebrations. This was also helped by a series of books written for families for this time period. I am NOT going to mention them here, because I really actively dislike them and this is my blog. My family instead chose to use the Jesse Tree to celebrate Advent.
So what IS a Jesse Tree?
What is a Jesse Tree? It is a tree branch decorated with symbols representing the stories of people in Jesus' family tree. In Isaiah 11:1 we read, "A shoot shall come out from the stump of Jesse, and a branch shall grow out of his roots." Jesse was the father of David, Israel's greatest king. And it was from David's lineage that Jesus came. That's where the idea of using a Jesse Tree to celebrate Advent came from. Before a symbol is hung on the branch, a Bible passage or a story from a story Bible is read.
https://www.rca.org/jessetree
The Jesse Tree represents the family tree, or genealogy of Jesus Christ. It tells the story of God's salvation plan, beginning with creation and continuing through the Old Testament, to the coming of the Messiah. The name comes from Isaiah 11:1, "Then a shoot will spring from the stem of Jesse, and a branch from his roots will bear fruit." (NASB)
http://christianity.about.com/od/christmas/qt/jessetreeadvent.htm
So what exactly do we do on Texadus Family Farm?
We start with a construction paper tree on our living rm wall. Aaron made it this year.
I print out the readings, the *ornaments*, and make sure we have fresh new boxes of crayons. Rebecca traces a circle around each ornament and cuts them out.
When the first night of Advent arrives we all gather in the living room and Farmer Jones reads the assigned passage from the Bible, we talk about it, then we sing the assigned song for the day, then we usually let at least the 3 youngest each pick a song. After that we all color our pictures and hang them on the tree and then have a *goodie* (hot cocoa, cookies, fudge, spiced cider, etc). It is a simple celebration, but one we look forward to each night.
Day 1
reading –
Isaiah 11:1-2
There shall come forth a Rod from the stem of Jesse,
And a Branch shall grow out of his roots.
The Spirit of the Lord shall rest upon Him,
The Spirit of wisdom and understanding,
The Spirit of counsel and might,
The Spirit of knowledge and of the fear of the Lord.
Song –
O Come O Come Emmanuel
O come, O come, Emmanuel,
And ransom captive Israel,
That mourns in lonely exile here
Until the Son of God appear.
Rejoice! Rejoice!
Emmanuel shall come to thee, O Israel.
O come, Thou Rod of Jesse, free
Thine own from Satan's tyranny;
From depths of hell Thy people save,
And give them victory o'er the grave.
Refrain
O come, Thou Key of David, come,
And open wide our heavenly home;
Make safe the way that leads on high,
And close the path to misery.
Refrain
O come, O come, great Lord of might,
Who to Thy tribes on Sinai's height
In ancient times once gave the law
In cloud and majesty and awe.
Refrain
O come, Thou Root of Jesse's tree,
An ensign of Thy people be;
Before Thee rulers silent fall;
All peoples on Thy mercy call.
Refrain
O come, Desire of nations, bind
In one the hearts of all mankind;
Bid Thou our sad divisions cease,
And be Thyself our King of Peace.
Refrain
Day 1 symbol – Stump with a branch growing from it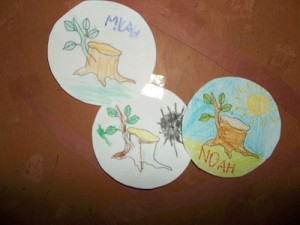 Day 2 – Genesis 1:26-31 Creation (world)
O Come O Come Emmanuel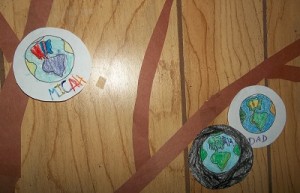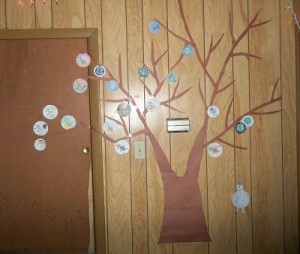 Coloring the pictures –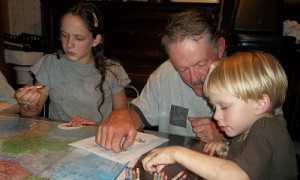 Molly (14), Farmer Jones, and Samuel (4)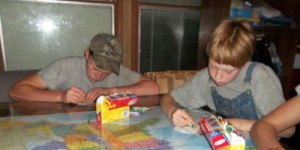 Isaac (17) and Caleb (10)
Day 3 Genesis 3:1-19 The Fall (apple & snake)
O Come O Come Emmanuel
Day 4 Genesis 6:11-14, 7:17 to 8:3, 9:8-13 Noah (ark & rainbow)
Angels We Have Heard on High
Angels we have heard on high
Sweetly singing o'er the plains,
And the mountains in reply
Echoing their joyous strains.
Refrain
Gloria, in excelsis Deo!
Gloria, in excelsis Deo!
Shepherds, why this jubilee?
Why your joyous strains prolong?
What the gladsome tidings be
Which inspire your heavenly song?
Refrain
Come to Bethlehem and see
Christ Whose birth the angels sing;
Come, adore on bended knee,
Christ the Lord, the newborn King.
Refrain
See Him in a manger laid,
Whom the choirs of angels praise;
Mary, Joseph, lend your aid,
While our hearts in love we raise.
Refrain
Day 5 Genesis 6:11-14, 7:17 to 8:3, 9:8-13 Abraham  (tent and camel)
Angels We Have Heard on High
Day 6 Genesis 21:1-7 Sarah (cradle)
Angels We Have Heard on High
Day 7 Genesis 22:1-14  Isaac (ram)
Hark the Herald Angels Sing
Hark! The herald angels sing,
"Glory to the newborn King;
Peace on earth, and mercy mild,
God and sinners reconciled!"
Joyful, all ye nations rise,
Join the triumph of the skies;
With th'angelic host proclaim,
"Christ is born in Bethlehem!"
Refrain
Hark! the herald angels sing,
"Glory to the newborn King!"
Christ, by highest heav'n adored;
Christ the everlasting Lord;
Late in time, behold Him come,
Offspring of a virgin's womb.
Veiled in flesh the Godhead see;
Hail th'incarnate Deity,
Pleased with us in flesh to dwell,
Jesus our Emmanuel.
Refrain
Hail the heav'nly Prince of Peace!
Hail the Son of Righteousness!
Light and life to all He brings,
Ris'n with healing in His wings.
Mild He lays His glory by,
Born that man no more may die.
Born to raise the sons of earth,
Born to give them second birth.
Refrain
Day 8 Genesis 28:10-22 Jacob (ladder)
Hark the Herald Angels Sing
Day 9 Genesis 37:1-36, 50:15-21 Joseph (coat)
Hark the Herald Angels Sing
Day 10 Deuteronomy 5:1-22 Moses (tablets)
Joy To the World
Joy to the world, the Lord is come!
Let earth receive her King;
Let every heart prepare Him room,
And heaven and nature sing,
And heaven and nature sing,
And heaven, and heaven, and nature sing.
Joy to the world, the Savior reigns!
Let men their songs employ;
While fields and floods, rocks, hills and plains
Repeat the sounding joy,
Repeat the sounding joy,
Repeat, repeat, the sounding joy.
No more let sins and sorrows grow,
Nor thorns infest the ground;
He comes to make His blessings flow
Far as the curse is found,
Far as the curse is found,
Far as, far as, the curse is found.
He rules the world with truth and grace,
And makes the nations prove
The glories of His righteousness,
And wonders of His love,
And wonders of His love,
And wonders, wonders, of His love.